We specialize in top quality service
Quality service and workmanship is very important to us and deserves high priority. Our drawing and design department helps our clients with custom made products before manufacturing. Below is a full list of Info & Specifications for the various products.
Camp Oven Charcoal
BC041, bread, chicken, veggies, etc. 300 x 180 x 220mm
CAMP OVEN & BAG
BC041 Camp oven charcoal - bread, chicken, veggies, pudding. 300 x 180 x 220mm
Crayfish Pot & Lid
Stainless Steel, Size 280 o/d x 420mm, Hygienic & Easy to Clean. 22 litre
Paella Pan & lid
Stainless Steel [3CR12 / 430 grade], 400 x 300 x 70mm, Hygienic AND Suitable for induction stoves, ideal for Paella,steak or breakfast.
Blik hoender
Stainless steel stand with 3 forks. Can take 3 chickens, shanks, leg of lamb and more. Put veggies at the bottom and you have a complete meal! Takes roughly 60 minutes.
Mini-Spit
2 chickens / lamb leg. Includes (Gas burner x 1 or Removable Ash Pan for Charcoal or Wood), Drip Tray, Spit-Rod + Forks, Battery motor, Floor & Table stand. 770 x 460 x 475mm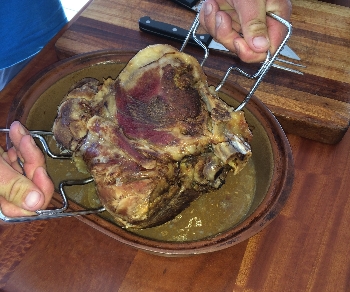 MEAT LIFTER
Meat Lifter or Pulled Meat. Meat handling made easy!
Mini Grid
BC001 - Mini Grid 280 x 230 x 20mm, adjustable handle
Snoek Grid
BC005 Snoek Grid 615 x 325 x 40mm, non adjustable handle
Standard Grid
BC002 Standard Grid 430 x 330 x 40mm adjustable handle
Fish Grid Pan [Standard]
Fish grid pan - To remove braai fish neatly from grid and dish up. Fits std grid 405 x 305 x 20mm